The jury, composed of gastronomy professionals, chose to reward three winners on the basis of originality, concept, authenticity, ethics and positioning. The label Les Quintessences is a guarantee of quality that will allow the winners to distinguish their business and establish their reputation in the sector.
Les Quintessences 2022
The Best Of jury met on September 6, 2022 to choose between nearly 100 distributors: delicatessens, food artisans, caterers, wine shops, general food stores, online markets, etc. Given the quality of the concepts presented, the jury elected 3 winners who were awarded a Gold, Silver or Bronze medal!
Spotlight on the winners of the Quintessences 2022 competition.
Les Cinq Continents - Gold medal - 34920 Le Cres
Claude and Florence are two sisters who left the world of finance to buy an Asian grocery store in 2010 in Cabestany, near Perpignan. With a solid experience, they decided to open a second store in the Montpellier area in Le Crès in 2015. Over the years, the Asian grocery concept has evolved into an exotic grocery store offering products from the five continents... hence the name of the store! Today, Les Cinq Continents offers more than 8000 references of grocery products, fresh products, frozen foods, fruits and vegetables, tableware and accessories from more than 35 countries (Thailand, Vietnam, China, Japan, Korea, Philippines, United States, Canada, England, Lebanon, Mexico, French Overseas Departments and Territories, Argentina, Greece, Italy, Spain, Brazil, Poland, Ukraine, Senegal, North Africa...). This impressive assortment includes everyday ingredients as well as rare and precious or surprising products: exceptional soy sauces, aged for several decades, beans with maple syrup, canned cassava leaves, chili peppers, soursop or baobab jam, achards, tamarind jam, flours for all kinds of recipes, several types of miso and many others, drinks with or without alcohol... A real Ali Baba's cave!

Passionate and always in search of new nuggets, the two sisters have at heart to make discover international gastronomic specialties, to advise, surprise and especially make their customers travel without leaving their department. The grocery store also allows communities living in the Montpellier area to find hard-to-find products from their home country.

The decoration of the store is sober and raw to keep the selection of products at the heart of the concept. Les Cinq Continents organizes tastings in order to introduce new flavors to their customers, and to give them ideas for recipes and the use of ingredients.

What seduced the jury: the address that every gourmet would like to have at the end of his street to discover new products, new recipes or simply to find rare ingredients encountered during his travels! The role of the grocer takes on its full meaning here: to surprise, to advise, to invite the senses to travel and to discover exotic, unexpected, even precious products... The shopkeeper becomes a local media: an ambassador of international gastronomy. A truly original approach at a time when many are focusing on 100% local products!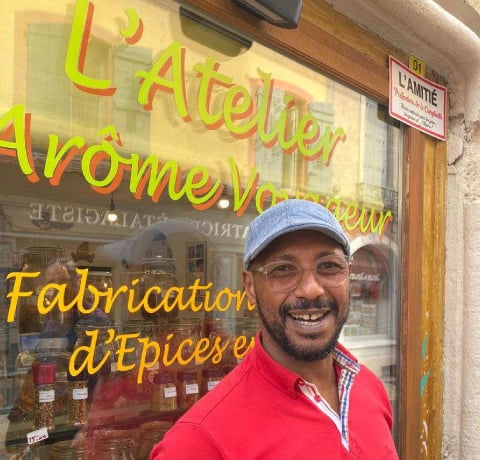 Aromarie - Silver medal - 71700 Tournus
Farhane Assabat, the great-grandson of a spice farmer from Madagascar, wanted to open an address specializing in spices, spice blends, peppers and plants (tea, herbal teas and powders, aromatherapy) in the heart of Burgundy, in the small town of Tournus.
Passionate and expert, he offers rare products of exceptional quality from all over the world: selerio, candied hibiscus flower, cinnamon, vanilla bean, galanga, bissap, Egyptian pepper, nutmeg, turmeric, as well as an incredible selection of peppers (Timut, pink berries, black or white pepper from Madagascar, black pepper from the Comoros, long pepper from Java, salted pepper from the Côtes...) As a true purist, Farhane grinds and creates her own blends: West Indian, tandoori, madras, zaatar, massalé, Thai, colombo, raz el hanout, gourmansio... but also blends created especially to make children love vegetables.

Focused on well-being through food, the store also offers health mixes and aromatherapy products. Authentic, the point of sale is decorated with jars filled with creations and nuggets unearthed by Farhane. In order to educate about flavors and uses, the house offers many animations and tastings.


What seduced the jury: a niche business, expert with a beautiful history of family transmission. A return to the roots of the grocery store around its flagship product: exceptional spices, sourced with care and passion, and advice. A nod to the apothecary grocers as well, with a true vision of well-being and health thanks to the virtues of certain plants and spices.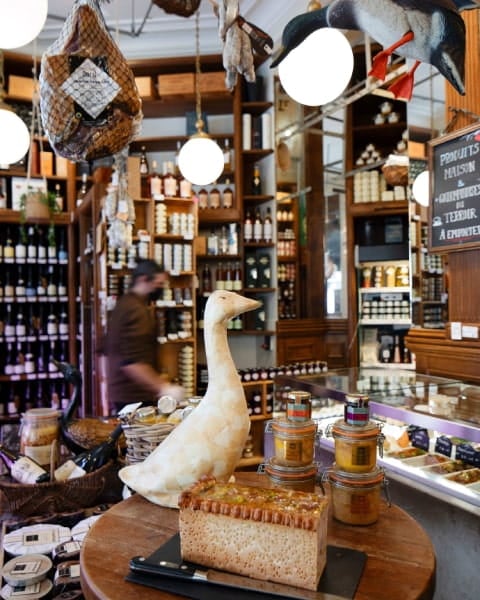 Le Comptoir de la Gastronomie - Bronze medal - 75001 Paris
Le Comptoir de la Gastronomie is a story of passion and family that began in the Halles district. In 1970, the young Dominique Loï took over a family creamery on rue Etienne Marcel and became a wine merchant. In 1989, he moved his business to rue de Montmartre in a splendid art nouveau style store dating from 1894. Today, his daughters, Lucie and Fanny, have taken over the business, bringing a touch of modernity without denying their father's gourmet values... especially since some of their employees have been part of the adventure for 40 years!

Le Comptoir de la Gastronomie is also one of the few delicatessens in Paris to continue to produce a large part of its products on site and in an artisanal manner, recognized as "Artisans and quality producers" by the Collège Culinaire de France. In terms of products, the house offers the great must-haves of the delicatessen, both fresh and dry products, by honoring the know-how and the French terroirs: homemade duck foie gras, smoked fish, fish eggs and caviars, traditional homemade pork meats, a very nice selection of cheeses from small producers, an assortment of ducks in jars or preserves, a range of truffles and other wild mushrooms, condiments and jams. Le Comptoir de la Gastronomie also has a fine wine, champagne and spirits cellar, but also a catering section with a selection of cooked dishes, as well as a "Bistro" restaurant next to the delicatessen.

Because of its positioning, the house does not only offer local products but is truly committed to selecting, directly from the producer, products that meet sustainable environmental standards. Throughout the year, tastings and events are organized at the points of sale to create a social link within the neighborhood. Finally, Le Comptoir de la Gastronomie offers a click & collect and delivery service in France and Europe.

What seduced the jury: a beautiful family history with a traditional address in the Halles district, the old "belly of Paris" that still exists! An approach to the business that combines a fine grocer, a caterer, a food craftsman and a restaurant owner with a passion for promoting know-how, local produce and simply good food.
Les Quintessences 2022 – They were the finalists


L'ÉPICERIE D'ICI - Baulou, Ariège
LES TOQUÉS DU TERROIR - Trouville-sur-Mer, Calvados
LA FEUILLE DE VIGNE - Honfleur, Calvados
L'ÉPICERIE DU COING - Pont d'Ouilly, Calvados
MAISON FERRERO - Porticcio, Corse
MOLENDINI, L'ÉPICERIE VRAC - Louviers, Eure
LA MAISON GOSSELIN - Saint-Vaast-la-Hougue, Manche
LA FRIGOUSSE - Ay, Marne
CITY MARKET - Larmor Plage, Morbihan
LOCAL & VOUS - Saint-Ouen-sur-Seine, Seine-Saint-Denis