The Best Of jury met on 7 September 2022 to taste more than 100 products and decide between the finalists. A look back at the highlights of the competition.
In view of the quality of the products presented, the jury decided to reorganize the categories for more coherence and thus reward 12 winners in these categories.
Two other winners were added: the Best of Best and the Best Of Concept.
The 2022 products are thus divided into 11 categories:
Alcoholic beverages,
Hot beverages,
Non-alcoholic beverages,
Chocolate,
Condiments and sauces,
Confectionery, cookies and pastries,
Jams and honeys,
Salted grocery,
Oils and vinegars,
Sea and aquaculture products,
Cured meats, delicatessen and catering.
The winners of the Best Of 2022 competition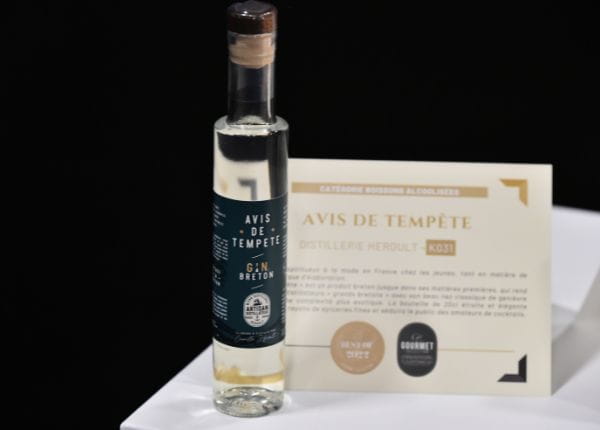 1/ Alcoholic beverages
Storm warning / DISTILLERIE HEROULT
Gin is the trendy spirit among young people in France, both in terms of consumption and production. "Avis de Tempête" is a Breton product, right down to its raw materials, which pays homage to the "great Breton" distillers with its beautiful classic juniper nose supported by a more exotic complexity. The narrow and elegant 20cl bottle will fit the shelves of fine grocery stores and will seduce the public of cocktail lovers.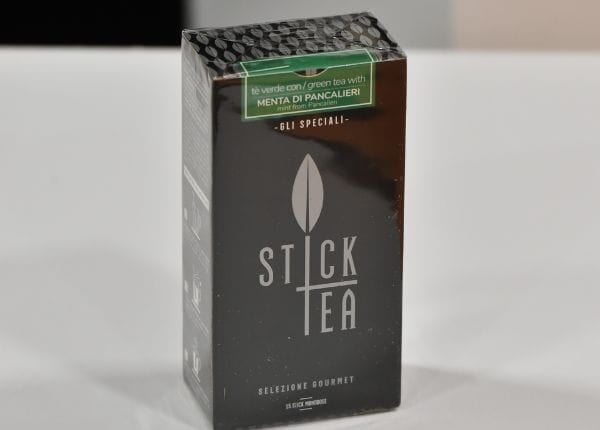 2/ Hot beverages
Stick Tea green tea with mint from pancalier / STICKTEA
When a product combines a gustatory quality and an innovative packaging highlighting the practicality of use it deserves to be awarded. This is exactly the case with Stick Tea, a real disposable alternative to the tea ball. This product seduced the jury by the quality of its tea flavored with whole leaves of Piedmont mint, and the process of micro-holes in an elegant metalized paper tip to dip directly into his cup of hot water.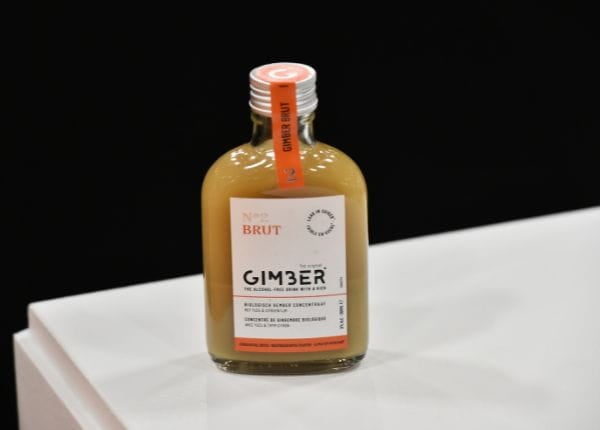 3/ Non-alcoholic drinks
Gimber N°2 BRUT / GIMBER
We know the virtues of Gimber already rewarded in this contest and its incredible commercial success that it owes to the undeniable aromatic quality of its preparation based on ginger. Here is Gimber N°2 which draws its aromas in an aromatic "around the lemon": Ginger (peppered lemon), lemon thyme (herbaceous lemon), Yuzu (intense bitter lemon). No doubt that this product with more flavour and less sugar than its big brother will meet the same success as the whole Gimber family.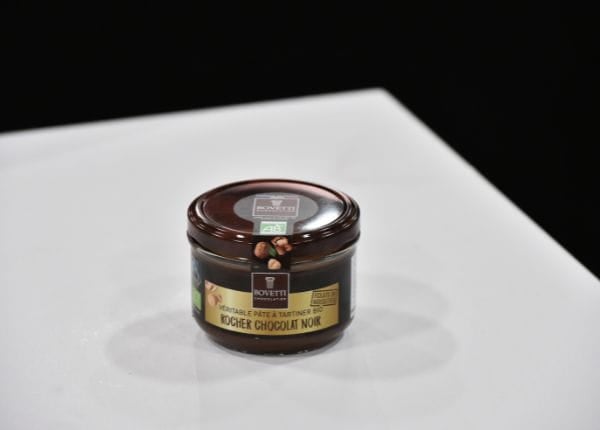 4/ Chocolate factory
Genuine organic dark chocolate rocher spread / BOVETTI CHOCOLATS
We are all children in front of a jar of hazelnut and chocolate spread. But this time we must pay tribute to the house Bovetti already known for its work, which ranks first in a category extremely well supplied with quality products, bars and spreads. The quality of the organic raw materials used, hazelnuts from Piedmont, pure cocoa butter without palm or coconut oil, reduced sugar content, and the perfect balance of flavors have won the support of the chocolate jury led by Victoire Finaz - La Chocologue. It is a spread for connoisseurs.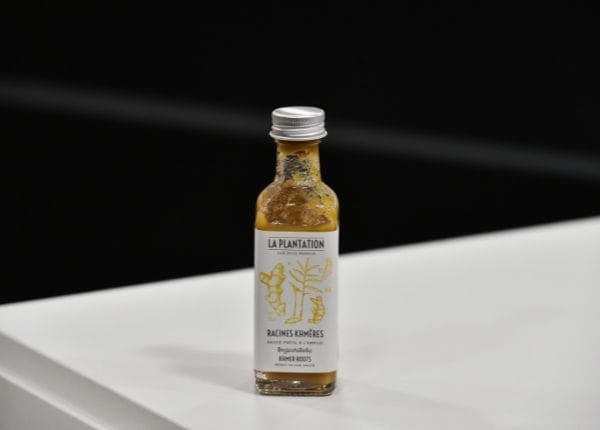 5/ Condiments & Sauces
Khmer Roots Sauce / LA PLANTATION
With this sauce with Cambodian flavors, La Plantation moves away from its favorite product, Kampot pepper (the only Cambodian agricultural product to benefit from a PGI), to use three rhizomes, three related roots of the Zingiberaceae family: yellow ginger, turmeric and galanga. This formidably perfumed and balanced sauce crowns with success a list of achievements already begun in previous years with the fresh kampot black pepper with salt and the green pepper sauce.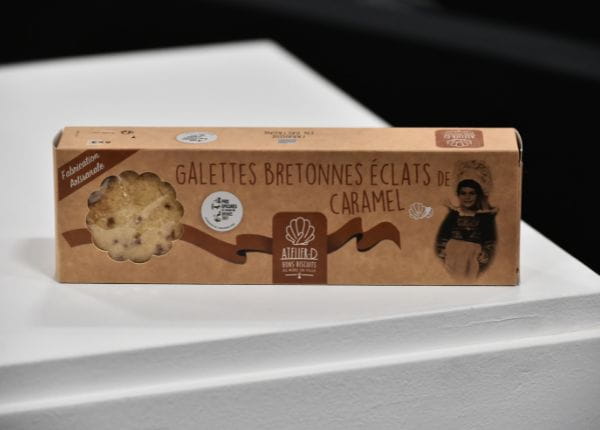 6/ Confectionery, cookies and pastries
Galettes with caramel chips / ATELIER D
A simple galette can contain everything about Brittany. Three emblematic products make up this wonderful cookie: fresh butter, caramel chips and Guérande flower of salt. But this is not enough to ensure quality, which lies for many in the textures. A cake that the well worked butter makes crumbly and crispy, a caramel that remains crisp and does not stick and finally salt crystals that crunch under the tooth. It is a flawless cake, almost as emblematic of its region as the Gwen-ha-du (the Breton flag).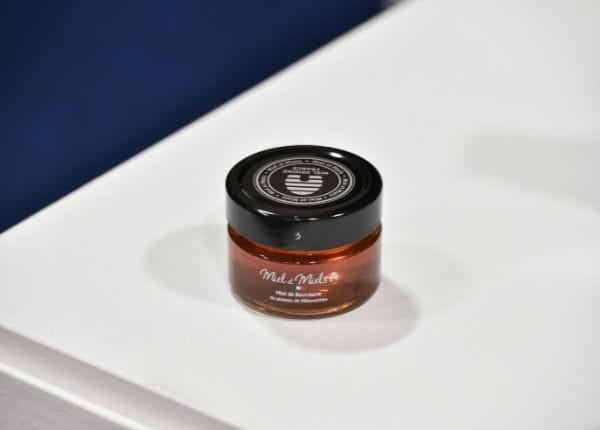 7/ Jams and honey
Honey of Bourdaine of the plateau of Millevaches / MIEL & MIELS
A deep coppery gold, liquid, perfectly transparent and crystalline is how this honey seduces you at first sight. Then it seduces you at the opening of the jar by its subtle aromas which are found at the tasting, wrapped in this texture so fine that it never seems to crystallize. Nothing predestined the jury to place it at the top of a category with high quality. But this simple product, whose entire elaboration is left to the bees perfectly conducted on the shrubs of the "Montagne Limousine" by beekeepers respectful of agri-ethical commitments, has touched the tasters.
8/ Salted grocery
Buckwheat gressins / MADEMOISELLE BREIZH
Another nice move by the Bretons, who beat the Italians to the punch on their own turf. This buckwheat breadstick, a simple rolled and oven-dried home-made cake, will delight the palates of those who like its characteristic nutty taste. Moreover, and apart from its recognized gustatory and dietetic qualities, buckwheat is not a bread-making cereal and therefore does not contain gluten. This will allow those who are intolerant to this type of protein to find a product adapted to their appetizers.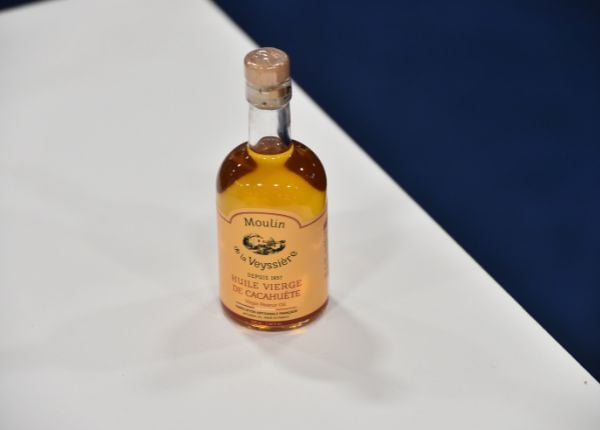 9/ Oils and vinegars
Virgin peanut oil / MOULIN DE LA VEYSSIERE
Any product can be delicious as long as the raw material is of good quality and the process is well conducted. This is what this peanut oil proves to us, as it wins the Best Of award at the expense of various high-quality olive oils. While the insipid industrial peanut oils are legion, here is a product that compares in no way with this unspeakable cohort, from a mill in the Périgord region whose know-how is no longer in question. Its aromatic qualities are due as much to the quality of the Gironde peanuts used as to the mastery of their heating to obtain this remarkable roasted product. It reminds us of roasted peanuts out of their pods and will be a milder alternative to sesame oil in Asian dishes.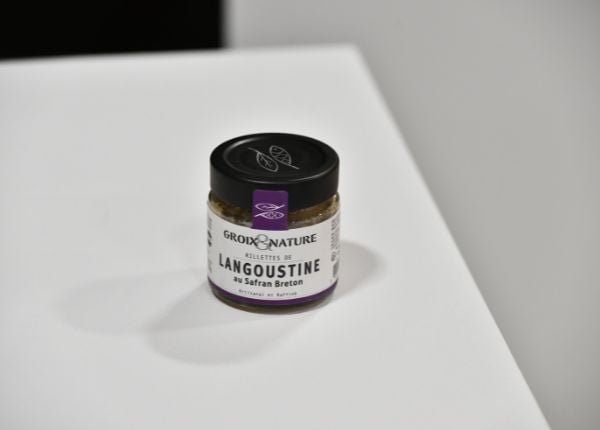 10/ Sea and aquaculture products
Rillettes of langoustine with Breton saffron / CONSERVERIE GROIX ET NATURE
Whatever the product we taste, we want to find in the box, the bottle or the jar, what is written on it. Here the contract is perfectly fulfilled. The fine aroma of the langoustine, the most delicate of shellfish, is well present and respected, and the contained power of the saffron brings an exceptional counterpoint. The perfectly spreadable texture of these creamy rillettes will delight lovers of small sandwiches, canapés or dips. It is a product that stands out in a market of "rillettes de la mer" by its finesse and its singularity.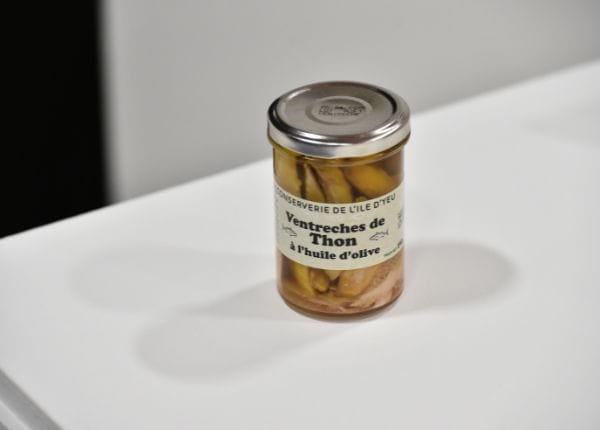 10/ Sea and aquaculture products
Tuna belly with olive oil / CONSERVERIE ILE D'YEU
All lovers of tuna ventresca (the fatty part of the tuna's belly) know the primacy of Spanish canners for this product. But this time, the Vendée team (already awarded by this jury) hit hard and even upset the Basques with a product that was very well made. This white albacore tuna ventresca from a local and responsible fishery around the Ile d'Yeu is absolutely exceptional in its softness. Its sections of fillets, which are detached in petals, bathed in a simple olive oil, leave all the room to the delicate and marine aroma of this product. We can say that this virtuous canner has really found the right tuna!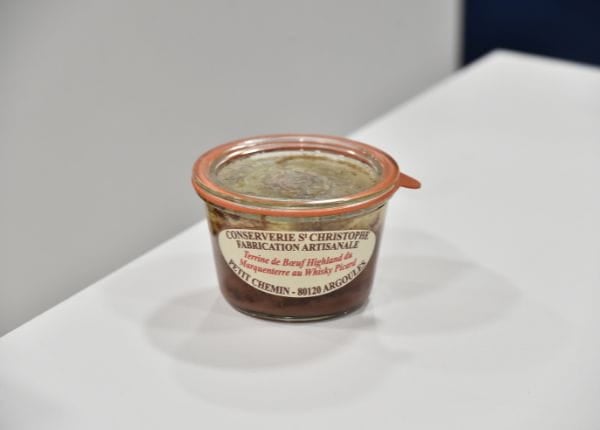 11/ Cured meats, delicatessen, catering
Terrine of Marquenterre highland beef with Picardy whisky / CONSERVERIE SAINT CHRISTOPHE
The Van Oosts have always been ardent defenders of their department of the Somme and of the Picardy region turned towards the sea. Their terrines and specialties always tell the story of their Bay of the Somme and here the Parc du Marquenterre, which is one of the jewels of the coastline. This Picardy terrine is a very successful tribute to the Scottish cousins: Highland beef raised in Marquenterre, whisky from the region as a taste enhancer make up a choice dish with character but a lot of balance, not very fatty without being dry. A beautiful product that will delight your aperitifs and snacks.
Special jury prizes : Best of Best 2022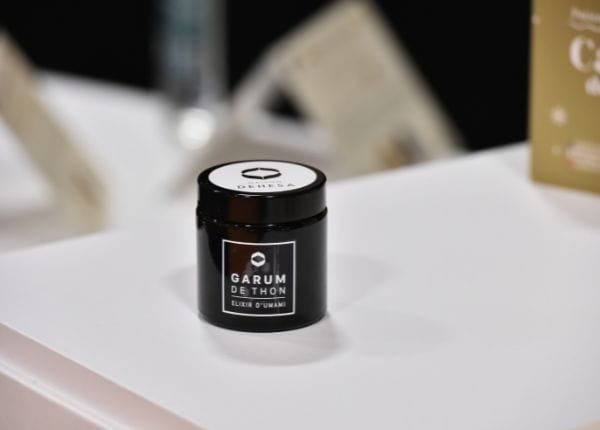 Garum de Thon - Maison DEHESA
This product takes us back in time to the origin of our Mediterranean civilization. The garum is a fish sauce fermented in salt. It was the main condiment of Roman cuisine at a time when salt, drying and smoking were the only ways to preserve animal flesh. This tuna garum, as it was already made at that time in the south of Spain, is similar in its strength to nuoc mam, and in its use to the colatura of anchovies or the niçois pissalat. Used very sparingly, it will deliciously flavour a vegetable, meat or fish dish, adding a complex and indefinable touch.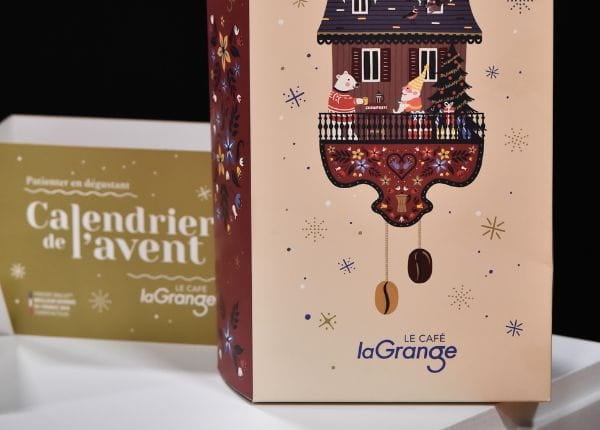 Advent Calendar - BVB LAGRANGE
Since the industrial chocolate makers have monopolized the advent calendars, very few have so judiciously married quality products with the joy of daily discovery that reveals the magic of Christmas each morning. This is done with this calendar from the Maison Lagrange, first imagined for teas and infusions and which now offers each day of December a daily dose of coffee beans from the best origins. It will allow a complete gustatory journey in the vast world of coffee, sitting cup in hand in Santa Claus' sleigh.