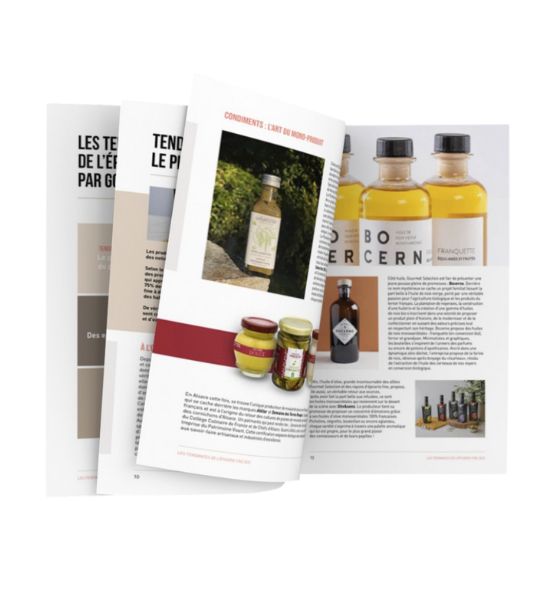 Trends in gourmet food 2022
This book brings together the dynamics that are shaking up the world of gastronomy today: are the French still gourmets? How do they consume? What do they find on their plates?
Gastronomy has undergone many upheavals after a turbulent period due to the pandemic. In this context, the French are rediscovering "home-made" and are placing more importance on the composition and origin of products.
For Gourmet Selection, OpinionWay has conducted an exclusive survey on the French and their consumption habits in delicatessen. The results will help you understand the arguments that seduce them. If taste is obviously at the heart of epicureans' preoccupations, the criteria that push them to buy a product are many and varied.
3 reasons to download the trend book
Through interviews, case studies, and an in-depth survey of French delicatessen habits, reading the "2022 delicatessen trends" allows you to:
Target your customers' expectations: Understand their needs and desires, you will be able to satisfy them; and why not surprise them? Understand what issues are shaking up the world of gastronomy today and what trends are emerging.
Discover new and original products of excellence: Distinguish yourself in order to seduce! Promote innovative producers whose products will surprise all taste buds!
Travel by taste! Browse through a selection of actors and products that contribute to promoting French and European gastronomy.

We have surrounded ourselves with professionals whose experience and know-how no longer need to be proven. We have unearthed the latest gourmet and original novelties that will not leave you indifferent, from chocolate to wine, including non-alcoholic drinks with surprising flavours.